Inspiring communities through enterprise
A social enterprise passionate about
supporting our business community
What makes the Beacon so special?
Stunning in looks – and with business and events facilities to match - The Beacon is a business centre quite like no other. We are a bright light in the heart of Newcastle's lively west end but serve a much wider audience.
Our workspace, office accommodation and creative units attract new and emerging but specialist
firms and entrepreneurs region-wide.
On our top floor is Skylight Newcastle Conference and Events, a highly adaptable 400-capacity venue and an unparalleled space for conferences, weddings and other business or social occasions.
We also have the perfect place to meet, network and relax – our stylish Bistro@TheBeacon serves delicious bites and beverages. They combine to create a space and place guaranteed to meets your needs.
Take a Virtual Tour of The Beacon
Business support articles from our community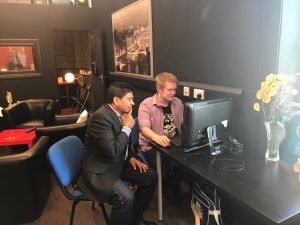 Good luck to Studio44 North's new apprentice, Luke Crosby, 19, from Chester-le-Street. Luke is going to working for Studio44 North's new digital marketing project GOGO. Doc Anand, Head of Operations for Studio44 North said: "Having started here at The Beacon, Newcastle just over one year ago, our business has gone from strength to strength." "Luke…
Read More
Can we help your buisness grow?
Complete our contact form today to enquire about bringing your business to The Beacon.
Our Office Space team are experts at helping businesses like yours.