Hawthorn Primary School pupils visit the Beacon to learn about enterprise
The Beacon was delighted to welcome school pupils from Years 3, 4 and 5 at Hawthorn Primary School as part of their Enterprise Week at school on Monday and Tuesday this week.
The visit was facilitated by three of our tenants at the Beacon: TJ Gill  of Studio 44, a media company;  Shehla Rashid of Noor Couture, an Asian fashion business and Amer Mirza of Dine @ the Beacon.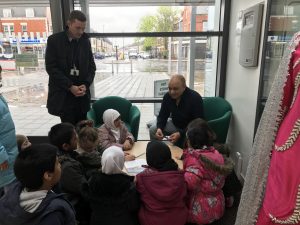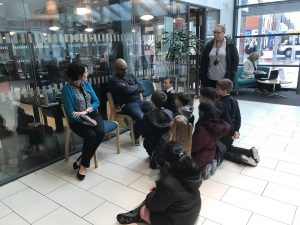 All three of the business people discussed with the students what their aspirations were as young people, how they ended up doing what they're doing now and how they continue to develop their businesses. The students were then able to ask questions and answers to TJ, Shehla and Amer.
Lynn Puga, Enterprise Manager at Centre-West, one of the two charities who own and manage the Beacon said: "It's been a pleasure to have local primary school kids visit the Beacon and gain an insight into what it's like to run a business."
"Thanks again to TJ, Shehla and Amer for their brilliant input into this visit."
Marzuqah, aged 9, of Hawthorn Primary School: "I enjoyed learning about the ways in which these business people started their business and how much hard work they've put into their businesses."
"It's inspired me to be a doctor."