Studio 44 expands their team to three apprentices as the company continues to grow
Studio 4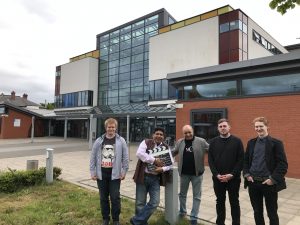 4, an international film company based at the Beacon, are continuing to grow their business by taking on three apprentices through the training agency, Creative Generation.
The three apprentices will be working to support TJ Gill and Doc Anand, the directors of the business, as they look to diversify into new areas of media.
For instance, Luke Crosby, 19, from Chester-le-Street, will be working on Studio 44's new digital marketing project GOGO.
Luke said, "This is a fantastic opportunity."
"I can't wait to improve my digital marketing skills and get to work on some projects."
Also joining the team is Chad Amers-Clarke, 19, from Wallsend. Chad will be focussing mainly on the filming and editing of content.
Chad explains, "I can't wait to get involved with all of the exciting project at Studio 44, especially music and film editing."
Studio 44's third apprentice from Creative Generation is Ethan Charles-Dickinson, 20, from Whitburn. Ethan is "extremely excited about this opportunity and cannot wait to get stuck in."
Doc Anand, Head of Operations at Studio 44 added:
"They're all keen lads and raring to go."
"They bring a fantastic energy to the studio and I'm sure this opportunity will be great for us and them."
TJ Gill, meanwhile, another Head of Operations at Studio 44 explained:
"It's great to have these young people on board and we look forward to working with them."
"It's amazing how much they can show us and we too, can learn from them."
The Beacon wishes Luke, Chad and Ethan the best of luck in their new roles at Studio 44.
Doc Anand and TJ are in Cannes this week for the Cannes Film Festival so make sure you continue to follow our feeds for updates on what they're up to.