The Beacon Supports Metro Radio's Mission Christmas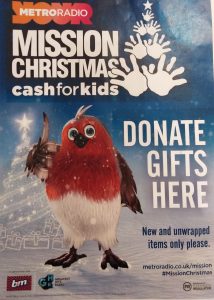 The Beacon Newcastle is proudly supporting Metro Radio's Mission Christmas this year.
With 1 in 3 children living in poverty The Beacon Newcastle is helping to make sure all children have presents to open on Christmas morning this year.
The Beacon Newcastle is a registered drop off point for anyone who would like to donate gifts to this great appeal.  Mission Christmas will ensure your donated gifts get to disadvantaged children in time for unwrapping on Christmas morning.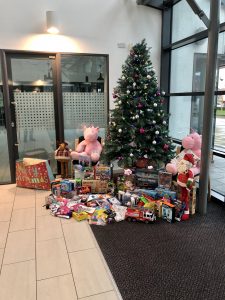 Also supporting this great appeal are joint owner of the Beacon Newcastle, Centre West and the management agent for the Beacon, Naylors Gavin Black; who have each donated £100 to buy a range of gifts.  These generous donations will be used to purchase board games, toys, arts and craft sets, sports equipment, books, puzzles and plenty more!
Gifts
With staff members, users of the Beacon and generous donations from the public we are sure to have quite the sackful for Santa and his reindeers to deliver on Christmas Eve and leave under the Christmas tree.
All donated gifts will be taken to Mission Christmas HQ on Tuesday 17 December.
For more information on this great cause please see the following
https://planetradio.co.uk/metro/charity/events/mission-christmas-north-east/
A great big thanks to Centre West and Naylors Gavin Black for their generosity during this festive time! Thanks also to NE Youth who utilised our drop off point services.