The Beacon Supports Newcastle's West End Food Bank
One of our staff members has begun a food collection for the West End Food Bank here at the Beacon Newcastle; to help those in need during this busy festive season.  Here she is in her own words on why she decided to do this in her own words…
It is such a beautiful time of year with lights glowing in shop windows and high streets, creating warmth and festive spirit.  The shops are full of gifts to buy and people jostling and bustling to get the perfect present for their loved ones.
It occurred to me that I was one of those people in those shops who had a limitless credit card and had no concept of money, I could buy my family anything they wanted without thinking what exactly this time of year means to many, many people.  It was only when I found myself in a crisis a long time ago at Christmas time with no food, electricity and gas for me and my two small children and too proud to ask anyone for help that I realised that it's the many, many people who volunteer selflessly out there who care, that are the real beauty.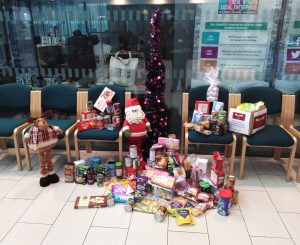 The West End Food Bank
The West End Foodbank is the busiest in the UK.  Supplying many families in crisis with food, someone to talk to and supporting them wherever they can.  There is no way to describe the selfless time they put in to ensuring families are fed.  1 in 5 of the UK population live below the poverty line, it can happen to ANYONE.
That's why I decided to collect non-perishable foods for these families and children who love the bright lights, stand in awe at the shops looking at the craziness it all brings, but coming back to a cold, dark house with no food.  This is for them and I hope that by donating a little something and doing our bit it will help a family not feel so lost and hungry this Christmas and remind them that there are others out there who really do care.
The Beacon
The food collection is at our reception desk; if you would like to donate an item or two do feel free to pop in and drop them in the box.  All food kindly donated will be donated to the food bank on Thursday 19 December.
For more information on Newcastle's West End Food Bank please click on the link
https://newcastlewestend.foodbank.org.uk/
Sincere Warm Wishes to you all, Peace, Kindness and Health